2nd Inning Player Program
It is the top of the 2nd Inning Program and MLB The Show 21 has plenty of new moments, missions, events, and rewards to help you make the most out of your efforts. Make room on your rosters for the "Crime Dog" himself as Diamond All-Star Fred McGriff takes the field in the new 2nd Inning Player Program.
2nd Inning Showdown
Get ready to choose one of the 2nd Inning Bosses to head up your custom Showdown Squad and take on the 2nd Inning Showdown to earn XP towards the 2nd Inning Program.
---
Roster Attributes Update: New Diamonds & Golds
This week's Roster Attributes Update will see plenty of your favorite, and soon-to-be favorite, players going Diamond and Gold in MLB The Show 21. Roster transactions will happen weekly throughout the season, and Roster Attributes Updates occur every other week.
New Diamonds:
Giancarlo Stanton
Xander Bogaerts
James Karinchak
Brandon Woodruff
New Golds:
Tyler Glasnow
Freddy Peralta
Kevin Gausman
Zack Wheeler
Lance McCullers Jr.
Matt Barnes
Jared Walsh
Jesus Aguilar
Tommy Edman
Carlos Santana
Kolten Wong
Harrison Bader
Marcus Semien
---
Silver Sluggers Event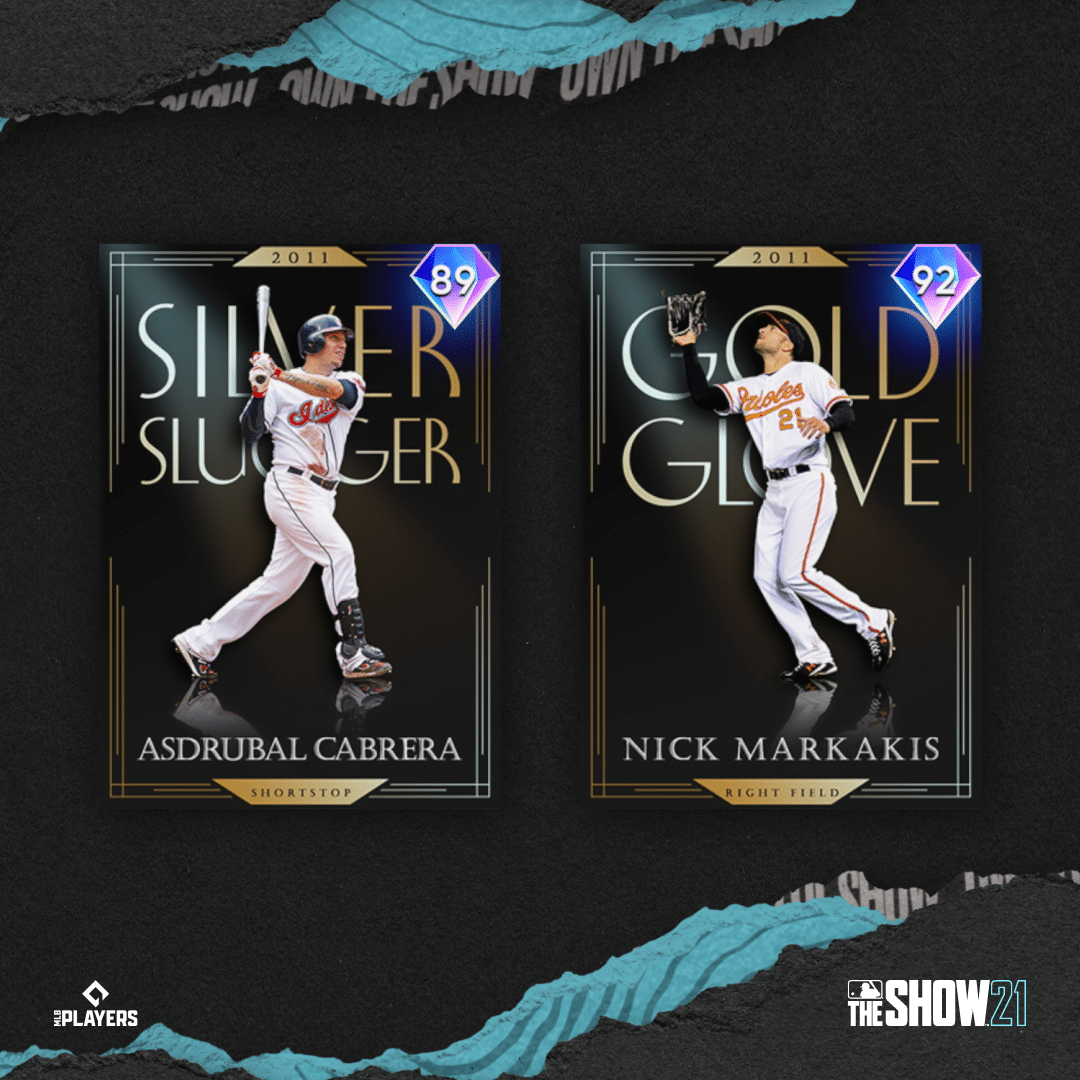 Take on the new Silver Sluggers event to earn Diamond Asdrubal Cabrera and Nick Markakis, as well as enough additional rewards to fill a locker room.
Event Rules:
Silver Players
Or Common Players
Min Player – 60 OVR
Max Team – 79 OVR
3-Inning Games
Difficulty: All-Star
FREE ENTRIES
---
New Topps Now Moments
Relive some of your favorite plays from this season, and earn player items you can use on your Diamond Dynasty team, with Topps Now Moments. Complete these Moments to earn XP, and then select 3 player items from the Topps Now Moments Weekly Choice Packs!
Topps Now Moments – Choice Pack Rewards – Choose 3 player items
John Means
Wade Miley
Dylan Cease
Adolis Garcia
Keiburt Ruiz
Seth Brown
---
FREE Camo Pack
In observance of Armed Forces Day (May 15th) MLB The Show 21 is offering a FREE Camo Pack in The Show Shop. The Camo Pack provides 4 Equipment and 1 Uniform items. Limit 1 Camo Pack per MLB The Show 21 account.
---
Thank You Bundle Last Chance
Don't forget to grab your FREE Thank You Bundle if you haven't already. The Thank You Bundle will be available in The Show Shop until 5/17. Limit 1 Thank You Bundle per MLB The Show 21 account.
---
Headliners Set 8 Pack
The Headliners: Set 8 Pack features Diamond Prime A.J. Burnett. Similar to previous Headliner Packs, this pack contains a 1:10 odds of a Diamond player item. Although, that Diamond is not guaranteed to be the featured Diamond Prime A.J. Burnett player item. The Headliners: Set 8 Pack is available now in The Show Shop for 7,500 Stubs and is limited to 5 packs per player.