Take on brand-new Missions and Moments, as well as a Conquest Map, for a chance to harvest some amazing rewards in the Fall Stars Featured Program available now in MLB The Show 22. Earn XP to choose up 5 Fall Stars Bosses Choice Packs, each letting you choose 1 of the 9 Fall Stars Bosses, featuring the following player items:
Fall Stars Bosses Choice Pack:
Takashi Dennis Eckersley, CP Oakland Athletics (99 OVR)
Takashi Ken Griffey Jr., CF Seattle Mariners (99 OVR)
Takashi Jimmie Foxx, 1B Boston Red Sox (99 OVR)
Signature Babe Ruth, RF New York Yankees (99 OVR)
Finest Bob Gibson, SP St. Louis Cardinals (99 OVR)
Finest Joe Mauer, C Minnesota Twins (99 OVR)
Finest Vladimir Guerrero, RF Los Angeles Angels (99 OVR)
Finest Francisco Lindor, SS Cleveland Guardians (99 OVR)
Finest Chris Sale, SP Boston Red Sox (99 OVR)
Along the way, earn Postseason Madison Bumgarner, Milestone Whitey Ford, Retro Finest Willie Stargell, Retro Finest Joe Carter, Retro Finest Kirk Gibson, and Retro Finest Luis Gonzalez in the reward path.
---
Fall Stars Boss Moments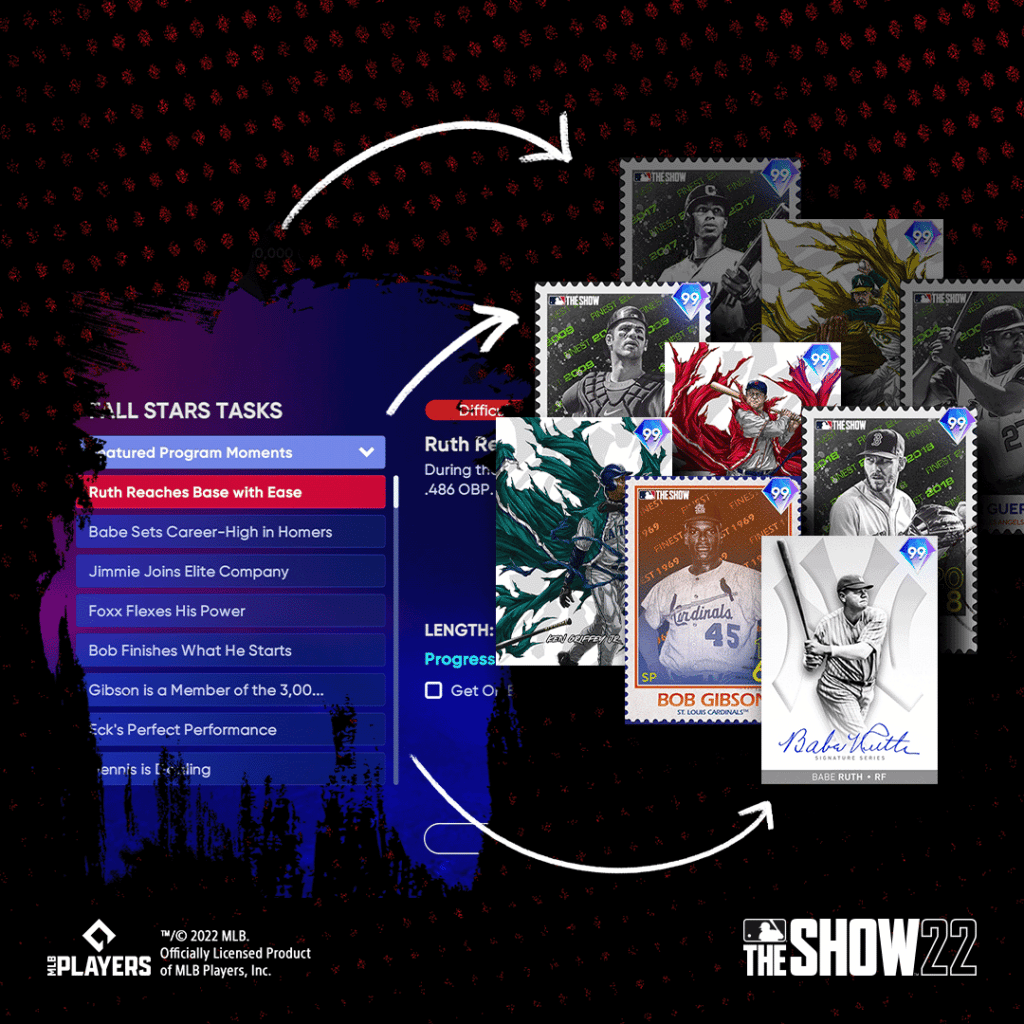 Check out the Fall Stars Boss Moments, showcasing the Featured Program Bosses in some of their most memorable plays to earn up to 54,000 XP (3,000 XP per Moment) towards this new Featured Program.
---
Fall Stars "Widow" Conquest Map
Snare an extra 45,000 XP towards the Featured Program, as well as a web full of additional rewards along the way, by taking on the Fall Stars "Widow" Conquest Map.
---
Roster Update
Along with today's Content Update comes the final Roster Update of the regular season, focusing on player attribute upgrades and downgrades. So take a look below to find out which of your favorites went Diamond or Gold before we slide into the Postseason:
New Diamonds:
Cristian Javier
Evan Phillips
Brandon Woodruff
Andres Munoz
Danny Jansen
Pete Alonso
Carlos Correa
Hunter Renfroe
Albert Pujols
New Golds:
Salvador Perez
Jeremy Pena
Anthony Santander
Whit Merrifield
Steven Kwan
Taylor Ward
Cal Raleigh
Hunter Greene
Ryan Pressly
Chris Martin
Daniel Bard
Brady Singer
Matt Bush
Blake Snell
Jeffrey Springs
Kenley Jansen
Nick Lodolo
Tyler Anderson
Jordan Romano
The last Roster Update of MLB The Show 22 will come out after the conclusion of the World Series however, you can expect plenty of Supercharged surprises throughout the Postseason.
---
Chase Packs Added to The Show 20 & 50 Pack Bundles
For a limited time, every The Show 20 Pack Bundle (30,000 Stubs) will guarantee a Chase Pack Set 3 and every The Show 50 Pack Bundle (75,000 Stubs) will guarantee Chase Pack Sets 1,2,3 & 4. Both bundles are available now in The Show Shop but these special bonuses will only be available until October 11 at 12:00 PM PT. So be sure to get your mitts on them now before this special offer ends!
Tags:
MLB The Show 22